About Behind Our Eyes
Behind Our Eyes, Inc. is a 501(c3 nonprofit organization enhancing the opportunities for writers with disabilities. Our anthology published in 2007,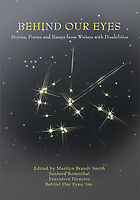 "Behind Our Eyes: Stories, Poems, and Essays by Writers with Disabilities," is available at Amazon.com and from other booksellers. It is available in recorded and Braille format from the National Library Service for the Blind and Physically Handicapped. Several members of our group meet by moderated teleconference twice monthly to hear speakers; share work for critique; or receive tips on accessibility, publication, and suggested areas of interest. Our mailing list is a low-traffic congenial place to share work in progress; learn about submission requests; and to ask and answer writing questions.
If you would like to join our group and receive access to our phone conferences and mailing list, please complete our quick and easy membership form.
Announcing our New Anthology
"Behind Our Eyes, A Second Look" is available in soft cover print and on Kindle at Amazon, and on Barnes and Noble. Stories, poems, and personal recollections reflect human emotion, startling fiction, and the rhythms of real life. Share our pride; read six years of our best work since the first anthology in 2007.
About Magnets and Ladders
Magnets and Ladders is our online magazine issued in the spring and fall. Read stimulating stories with a variety of characters and plots. Poems echo feelings and use images to make moments come alive. Memoir pieces touch the deepest, and sometimes the funniest, experiences we love to relive. You can contribute your own work and enjoy new ideas for writers. To read the magazine or sign up for the Email edition, visit the Magnets and Ladders website at www.magnetsandladders.org.
Contact Us
If you have any comments or questions, please use our contact form. If you have any problems with the form, please go to the Magnets and Ladders site and use the submission address there. Thanks.